News
Details

Written by

Jemima Woolverton
12 July
We arrived this morning (admittedly a bit bleary-eyed) with a great plan for the day. We had fewer volunteers on site, but were going to use the opportunity of reduced numbers to finish excavating and recording Areas 1 and 2, and two trenches in Area 3. It was going to be great. Everyone arrived, amazingly chirpy after the previous long day, set off to site, and it was all dandy. I had a very exciting hour tidying up the cupboard/shed where we store our tools, successfully excavating the floor from old newspapers and detritus, and went out to site just before lunch to see how everyone was getting on, satisfied that I knew where everything was in true OCD style. Everyone was getting on nicely.
At lunch, Chris gave us a short talk on Environmental Archaeology. Then everyone else went back out...and then it started to rain. And rain. And rain. Eventually I called 'Abandon Ship' into the walkie talkie. Those who braved the elements struggled up the hill to the village hall. Others made a beeline for their cars or the hedge. The foolhardy stayed outside.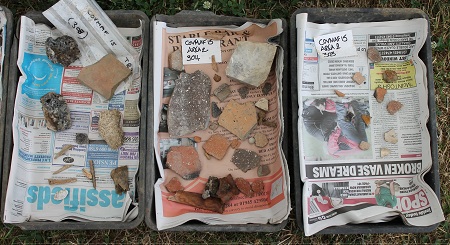 Suffice to say I don't have any pictures of archaeology today, and since we were on top of our finds washing, we didn't need to deploy anyone to that! However, we did start to take stock of the finds which have been washed and bagged. We're bagging our finds by type (pot, bone, CBM, shell etc.), so we worked through those which had been previously bagged to double check that they had all the right finds in, and logged the number of bags, by type and context, on a spreadsheet. It was a useful exercise in seeing exactly what sort of material is coming up, and several people commented that it was useful learning to identify finds once washed!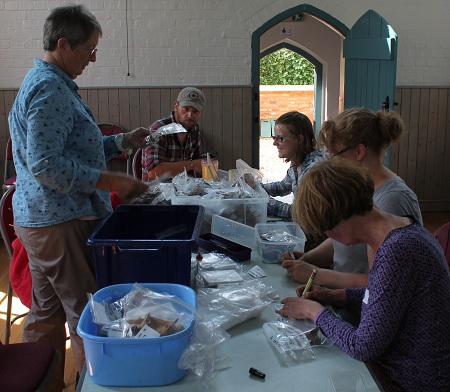 Sorting the finds. Paddy looking thrilled at being made to work inside!
So the plan for tomorrow is...the same plan as today! Try to finish off the trenches from last week, and move the influx of new people into the trenches machined yesterday. And pray it doesn't rain.
(btw, if you don't see a blog till Wednesday/Thursday, don't be surprised. I'm having two days off!)
Details

Written by

Jemima Woolverton
11 July
We're over half way through now, and to celebrate we're having a BBQ tonight - writing this as the BBQ fires up! James has opened 3 new trenches over various geophysical anomolies, uncovering some more ditches(!) including a possible prehistoric ditch running N-S across the site.
The beamslot has been excavated in Area 3, and having extended the trench, we think we have another beamslot running parallel to it (below, top right), with a small posthole next to it! Looks like a building!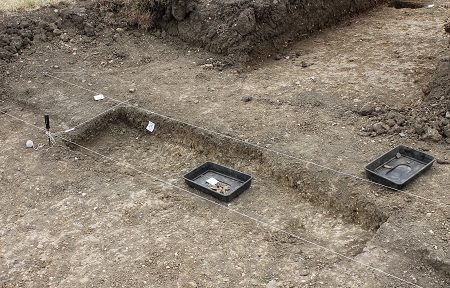 Dave from OAEast came out with our 'mushroom on a stick' hi-tech GPS equipment to survey in our trenches. We're teaching everyone how to draw base plans and take levels using dumpy levels as a 'belt and braces' approach - and also because on normal volunteer-lead sites a really accurate GPS is unlikely to be available. James has also been augering the big 'moat' to the west of our site, and has found that it's pretty much flat at the bottom. Since it's about 6m wide at the top, it's probably a hollowway - an old trackway constructed, we suspect, to hide passing peasants from those living in the Big House!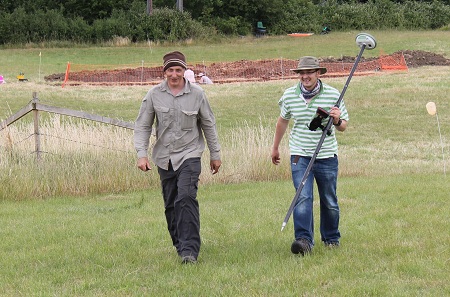 Chris and Lynne are beasting through the lovely loose fill of a Medieval ditch in the bottom of Area 1, and uncovering some really nice pottery! This trench continues to surprise us: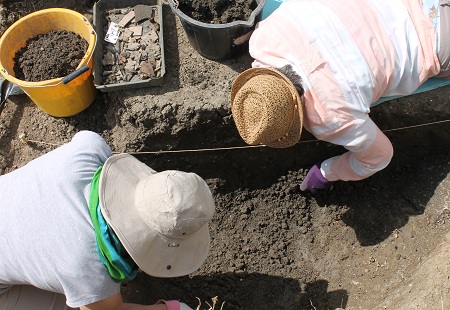 Finally, since we've just had our site tour, here's a group photo of those of us who were on site today!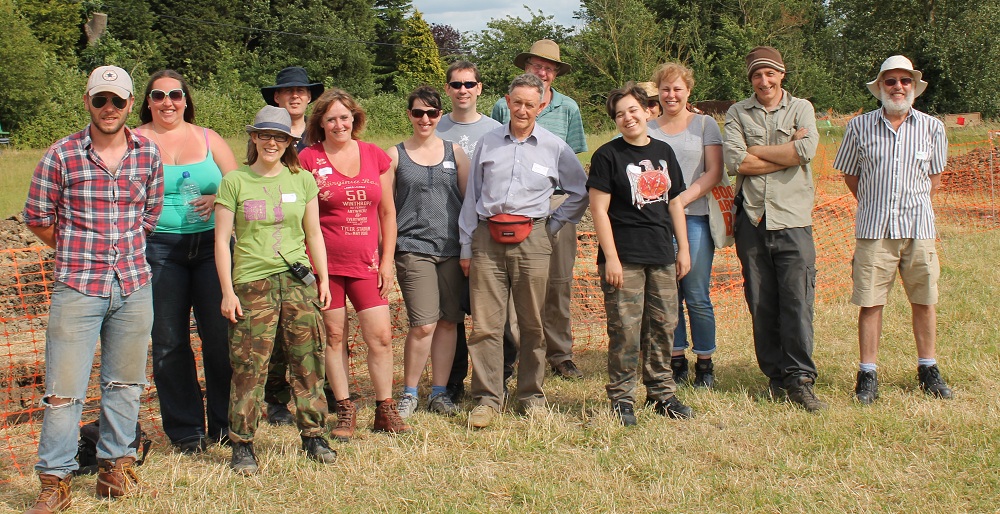 Details

Written by

Jemima Woolverton
8th July
Richard Mortimer from Oxford Archaeology East popped in this morning to look at our features and pottery. Richard loves Saxons, and unfortunately it looks like we're a bit late for his taste, but he was still pleased with our progress! He says our site and finds mostly date from the 12th to 14th centuries AD, and fit the general Medieval village pattern of growth from the 12th-13th centuries into new areas as population grew, and then contraction and abandonment of these new areas after the Black Death decimated the population.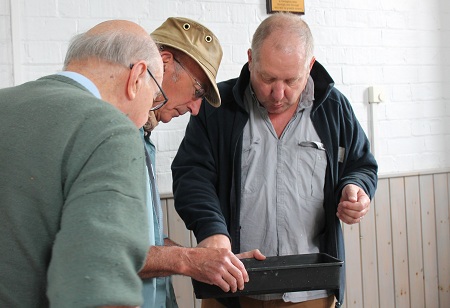 Caoption has to be: 'ooooh, pretty pot!' And more pretty pot below: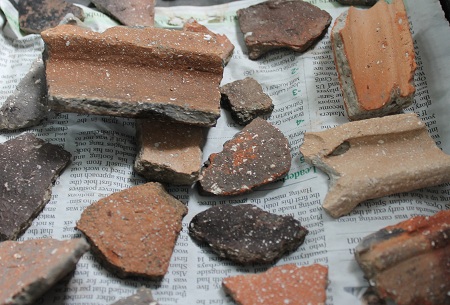 Graham Taylor led a course on how to make modern replicas of Medieval pottery. Here's a few pictures of people having a go on his potter's wheel:
Despite a lot of changeover between people who were on the morning and afternoon pottery courses also attending the dig, we continued to press on with our excavation and recording. We're going to move into a new trench tomorrow, where we think we have a beamslot for a building. We're also hoping to open some new trenches over the next few days when we have the machine again. Here are James and Simon plotting where to position our new trenches to target some interesting features on the geophysics!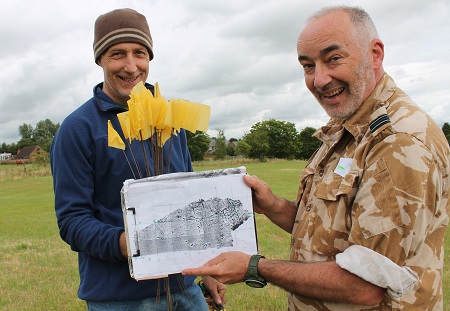 Details

Written by

Jemima Woolverton
9th July
This is a post from yesterday's dig, on account of my having a day off today! I hope everyone's had a lovely day today, and look forward to finding out what's happened tomorrow morning! However, yesterday....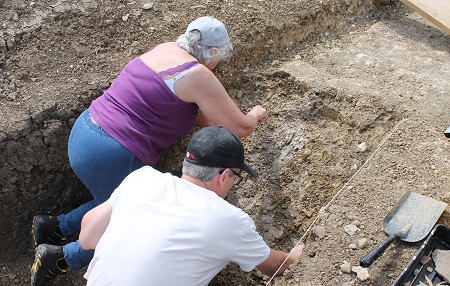 We finally found the sides of the cut of the ditch in Area 2 (above). Hooray! Rog and team had noticed a colour change in the fill on Wednesday and had stopped to record, but yesterday we pushed back another 0.5m to find the original cut to the west of the ditch. It looks like what Rog and co. had found was a fill slumping layer, so we have recorded the new material with a separate context number. To the east of the ditch, first-time digger Glyn has been finding the eastern cut of the ditch, and what looks like a gulley or ditch running into the main ditch. Can't wait to find out what has happened tomorrow!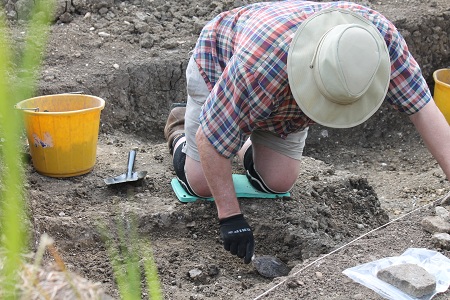 Yesterday Donna and team also took stock of our finds, bagged up those which have been washed and dried, and worked through a good number of our finds backlog. We've bagged them up by type (Pottery, bone, CBM, shell etc.) so they can go straight to our specialists for identification. It still looks like most of our material is 12th-14th century, but we'd love to find something earlier...
Volunteer Chris Terry has also been teaching other volunteers how to take heights on trenches and features using a dumpy level. This is quite old-school technology, working from benchmarks on the side of churches, then working from a Temporary Bench Mark in the field, and then up to the individual trenches, but for most of our groups who don't have access to state-of-the-art GPSs, this is invaluable.
Details

Written by

Jemima Woolverton
7th July
Today has been a strange day! We evacuated the hall for a pilates class and set up camp very comfortably in the marquee, only for some scaffolders to turn up to fix the hall roof! However, not many marquees can boast their own tea urn and wifi hub...
We continued excavating yesterday's features. In Area 1 we've almost finished recording the strange modern burning and redeposited natural, have planned it, and are probably going to mattock it off tomorrow. Amongst the redeposited natural, Josephine uncovered the butchered remains of some animal all clumped together in a pit. We think it's a sheep/goat, but need to get it formally identified. I couldn't resist hoiking the mandible out while Josephine's back was turned, and then posing with it... And here's Alfie, our budding SHARP archaeologist, posing with it as well.
| | |
| --- | --- |
| | |
Alex, John and Emily have finished the Medieval ditch in Area 1 and are going to start their recording tomorrow. The diggers in Area 2 are still slogging through their massive ditch, pulling out some very nice Medieval pottery. I think we may need to do some serious mattocking tomorrow lest everyone loses heart! At the top end of the field, David, David and Glenis have completed excavating their Medieval ditch (I said there were a lot of ditches!) and took their photographs this afternoon. Tomorrow morning they're going to learn the intricacies of context recording, before moving on to the next feature...
| | |
| --- | --- |
| | |
Simon and James gave a talk on how to draw sections and plans at lunch time, including a 'Double D Ditch' illustration that had to be seen to be believed... At this point our Jigsaw boss turned up! Jo has been busily organising our Medieval Pottery Making courses for tomorrow, and we were also pleased to see that the bricks and wood for our Roman kiln have arrived - it's going to be fascinating to watch how kilns are built next week! We've also been busy washing finds today. I promise we'll have some nice pictures of pot tomorrow.