News
Details

Written by

Jemima Woolverton

Members of the Great Fen Archaeology Group and other Jigsaw metal detectorists have been assisting Oxford Archaeology archaeologists this week in the excavation of a Spitfire in the Great Fen. Jo Richards and Jemima Woolverton, Jigsaw's Community Archaeologists, have also been on site to work with these volunteers and assist in the excavation. Volunteers have been metal detecting around the crash site (identified by earlier geophysical survey and metal detecting) to recover aircraft debris and build up a picture of how the aircraft crashed. Each find is given a number and its position marked by GPS. They are also metal detecting the spoilheaps generated by the main excavation to recover further artefacts. Finds so far include scraps of aluminium and ammunition. For further updates, keep an eye on the Oxford Archaeology website.
Details

Written by

Jemima Woolverton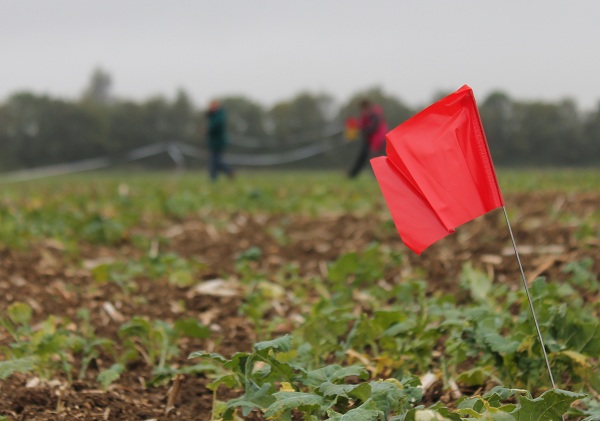 In September 2014 we lead a fieldwalking training course in Covington village investigating a piece of land which Covington History Group hadn't previously investigated. We surveyed the field in 20m gridsquares, trying to spend an equal amount of time within each square to make it a representative sample. The report is now out, and is free to download from OA Library. Please note that this is a good place to find many of Oxford Archaeology's grey literature excavation reports.
We're currently working on the Training Dig report from Covington this July. We've received our pottery and animal bone reports, and have some very interesting conclusions! More information to come as we analyse the results...
Details

Written by

Jemima Woolverton
So I'm back from my two days off, and I completely missed the kiln building and firing! But fortunately someone took some photos. Here's a photo of the course participants laying the grate at the bottom of the kiln: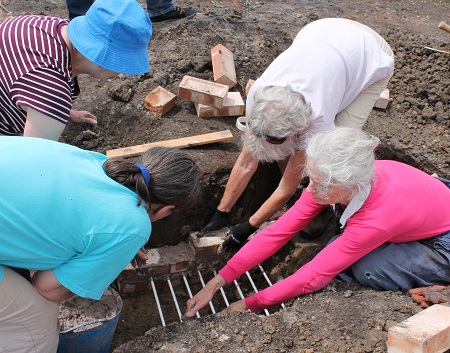 And Jo and potter Jon Cane supervising the job!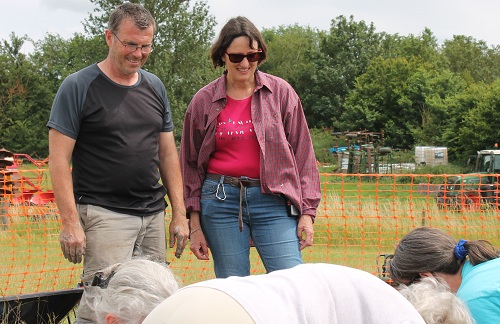 And after the brick structure is built, the clay being prepared to cover the kiln: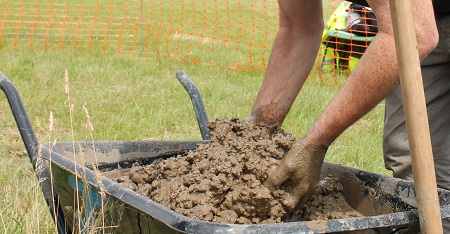 And here's the kiln this morning waiting to be opened! It was still warm, and smelt lovely. Jon tried to produce a reduced environment for the pots (so as to get the lovely dark Nene Valley pottery colour) but they've all come out white - albino coloured! Still a good firing otherwise. We're going to sell some of these at our open day - those not made by participants at the Medieval and Roman Pottery Making training courses.
As for the dig, it's going well! The recording of the old areas 1, 2 and 3 has taken longer than expected, as we keep finding more features! However, we're getting to the point where we need to draw a line under it and make sure everything we have dug is properly recorded. Accordingly it's been a busy day of section and plan drawing. The newer diggers have been ploughing on with excavating the new areas, including some Saxon and Iron Age features, and we've even found a bit of residual Roman pottery. Generally the pattern seems to be: Saxon at the top of the field, Saxon and Medieval in the middle, and Medieval and modern at the bottom. Phil and Rog in the new Area 2 have kept digging down into their ditch, which gets ever deeper! We're now wondering whether it's a defensive or boundary ditch, though frustratingly we've found a modern field drain in it which confuses our stratigraphy no end. Hoping it all comes out in the wash tomorrow - our last digging day on site!
Details

Written by

Jemima Woolverton
17 July
Well, that's all folks! Todays hard-working team cracked on with the final lot of recording and excavating of features. We had a few surprises as well!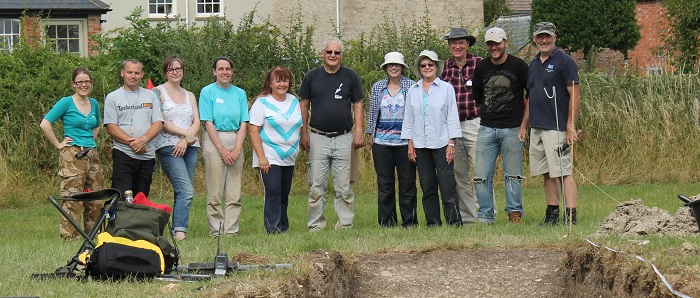 Mick's trench at the top of the field continues to surprise us. It now looks like we have a pond at one end (including well-preserved egg shell!), and various ditches and pits at the other end of the field. However, on closer inspection, it looks like the pits and ditches aren't sitting on top of natural, as we thought, but are dug into a redeposited natural - probably from when the pond was dug. Accordingly, under our 'natural' we have a layer of buried soil.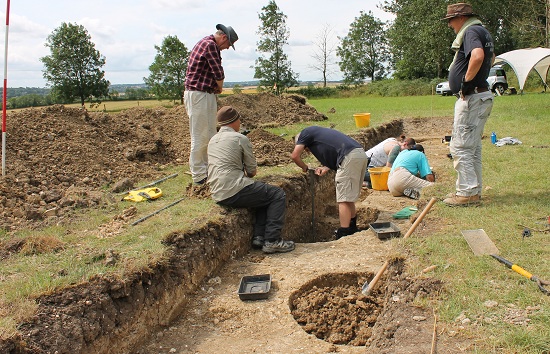 Simon augered the buried soil (see above), and it came out green. 'Aha! Cess pit!' we thought. But we haven't really found anything in it, apart from the odd piece of bone, and you'd expect people to lose things down the loo. So we're now wondering whether it's a daub pit. It smells foul, but since daub is made from horse poo, it figures.
Phil's trench also continues to surprise. The geophysics suggested there was a ditch in his trench, but not one as big or as deep as the one he's uncovered! The following (rather terrible) picture gives some idea of the scale of it - about 4m wide and 2m deep. We think there are several ditches going on here - maybe an early Roman one, followed by a Medieval or Saxon boundary ditch. This ties in with an old 18th century map which shows moats in this field at roughly the point of our trench - and our ditch also lines up with the earthworks in the adjacent field. Maybe it enclosed the Saxon or Medieval manor house!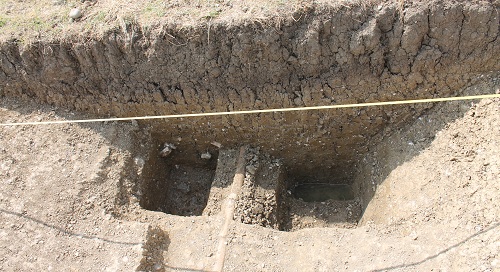 It's a shame we can't dig the whole field really, there's just so much going on. We'll be writing up a report over the next few months, which will be available as grey literature and downloadable for free from the OA Library: https://library.thehumanjourney.net/ We'll keep you posted. In the meantime, thanks to all who took part, and keep on digging!

Details

Written by

Jemima Woolverton
13 July
Today we're still finishing off digging and recording Areas 1 and 2, and the old Area 3 trenches. In Area 1, Chris is still chasing down her ditch with its lovely black fill, and still getting out some lovely finds. Nearby, Kev and Heather have been sorting out the ditches, pits and postholes all close together and overlapping. We think we've also found a big post hole...for a modern telegraph pole! It's in a line with all the others, anyway...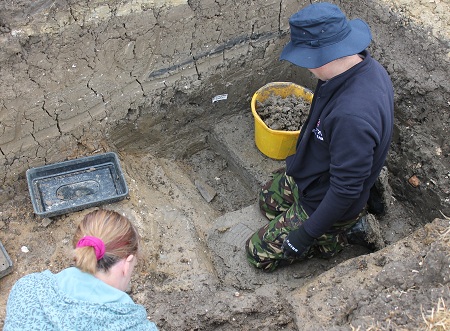 We've just about found the bottom of the ditch in Area 2, but paused this morning to photograph two pieces of Medieval ?cooking pot broken in situ - here's Dave shamelessly posing with the pot uncovered by someone else yesterday! Alex and John have excavated another ditch in this trench and pulled out the most enormous animal jaw. We are so close to finishing here!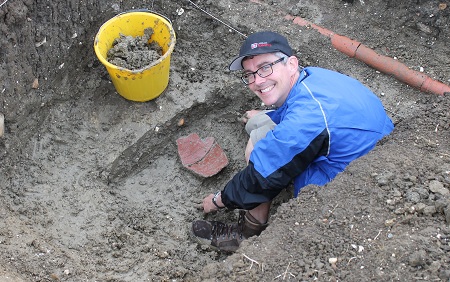 We've also moved into our new trenches: confusingly named Area 3 (new bit) and Area 2 (new bit)! Area 2 new bit may have a furrow, and possibly a big ditch. Phil and co are beasting through it. At the top of the field, Mick has been very excited to start cleaning back the ditches in the new Area 3, and may have found a pit cutting a ditch, or vice versa. Either way, there's lots still left to do, and James is itching to get everyone in there!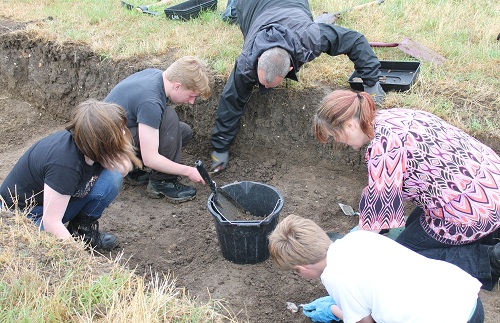 There definitely won't be a blog Tuesday and Wednesday - so check back on Thursday!