News
Details

Written by

Jigsaw
Saturday
1st
April 2017
from 9:30am
Madingley Hall, Madingley, Cambridge, CB23 8AQ
Cambridge Antiquarian Society
- AGM & Monthly talk
"Losing track: transport in Cambridgeshire, 1900-2016" by Tony Kirby
Monday
3rd
April 2017
at 6:00pm, AGM at 5:45 pm
Faculty of Law, West Road, Sidgwick Site, University of Cambridge
There is no charge for visitors or guests at lectures. New members are warmly welcomed.
Fen Edge Archaeology Group
- Monthly talk
"The Twenty Pence Project" by John Stanford
Tuesday
4th
April 2017
at 7:30pm (doors open 7:15pm)
Tony Cooper Suite, Cottenham Village College
Open to everyone. Admission: Members £2; Non-members pay £3.
Cambridge Archaeology Field Group
- Monthly talk
"Recent investigations into Fenland medieval salterns" by Dr Paul Spoerry (Oxford Archaeology East)
Wednesday
5th April at 7:30pm
McDonald Institute for Archaeological Research, Downing site, Cambridge
All welcome (CAFG invite contributions of 50p).
Fourth Annual Building History Lecture
"'Enormous, complicated and highly articulated machines' (Girouard ,1979): the introduction of Domestic technology in Victorian and early Edwardian Country houses" by Marilyn Palmer (University of Leicester)
Fitzpatrick Hall, Queens' College, Cambridge
Saturday
8th April at 6 pm. Followed by a wine reception in the college bar from 7.15pm
Marilyn Palmer has been a leading figure in the study, recording and advocacy of industrial archaeology for many years, and became the country's first Professor of Industrial Archaeology in 2000.
Free admission; all welcome.
Visit the
Jigsaw calendar
for details of upcoming community archaeology events in Cambridgeshire. Please
contact us
if you have any other events to add.
Details

Written by

Jigsaw
Cambridge Archaeology Field Group - Monthly talk
'Reconstructing the built environment and institutions in Eighteenth Dynasty Armarna (Egypt) through textual data' by Kimberley Watts (University of Cambridge)
Wednesday 1st Marchat 7:30pm
McDonald Institute for Archaeological Research, Downing St, Cambridge CB2 3ER
All welcome (CAFG invite contributions of 50p).
Cambridge Antiquarian Society - Monthly talk
'Settlement, society & legacy: the early Medieval rural communities of eastern England' by Duncan Wright (Bishop Grosseteste University)
Monday 6th March 2017 at 6:00pm
Faculty of Law, West Road, West Rd, Cambridge CB3 9DZ
There is no charge for visitors or guests at lectures. New members are warmly welcomed.
Histon and Impington Archaeology Group & Histon and Impington Village Society History Group - Monthly talk
'Our Prehistoric Neighbours: Archaeology at the Milton Park and Ride and Landfill Sites' by Tom Philips (Oxford Archaeology East)
Thursday 9th March 2017 at 7:30pm
Histon Baptist Church, Histon, Cambridge CB24 9BP
Members £2 Non-members £3. Refreshments Available.
Cambridge Science Festival 2017
Monday 13th - Sunday 26th March 2017
The Science Festival provides the public with opportunities to explore and discuss issues of scientific interest. There are several events this year highlighting scientific techniques used in archaeological research: http://www.sciencefestival.cam.ac.uk/events?search_api_views_fulltext=archaeology
FenArch - Monthly talk
'Lundenwic to Lundres, The Archaeology of Anglo Saxon and Norman London' by John Clark (Museum of London)
Tuesday 14th March 2017 at 7:30pm
Mendi's Restaurant, 21 Old Market Place, Wisbech
Members of the public are welcome to attend, entrance is £2 for non-members.
John Clark joined the staff of Guildhall Museum (City of London) in 1967, and worked on the project for its incorporation with the London Museum to form the Museum of London in 1976. As well as contributing to the design of the Museum of London's first medieval gallery and overseeing the amalgamation of the two museums' medieval collections, he also initiated and supervised the digitisation of the Medieval Department collections database. John also carried out various projects focused on updating the medieval gallery, particularly the Anglo-Saxon London displays, and produced a number of temporary exhibitions, including 'Alfred the Great 849-899: London's forgotten king' and 'Chaucer's Londoners: "a compaignye of sondry folk"'.
Cambridge Council for Voluntary Service - Training event
'Running a Community Group'
Wednesday 15th March 2017, 10am - 1pm
Arkenstall Village Centre, 7 Station Road, Haddenham, Ely, CB6 3XD
Come and learn about constitutions, committees and their management, taking minutes, keeping simple accounts, and policies and procedures. In short, all you need to know about how to run your community group. The briefings will be short, easy to follow and supported by information sheets you can take away and share with other committee members. There will be time to meet and network with other groups, talk with support workers about your group and find out about funding. This FREE session will be led by Alan Turner, development Worker at CCVS. After the workshop you can book a 1-2-1 with Alan. Places must be booked in advance here: https://www.eventbrite.co.uk/e/running-a-community-group-tickets-31756182597?ref=ebtn
Fen Edge Archaeology Group - Monthly talk
'Excavations at Northstowe' by Alison Dickens (Cambridge Archaeological Unit)
Thursday 16th March 2017 at 7:30pm (doors open 7:15pm)
Rampton Village Hall, Church End, Rampton CB24 8QA
Alison Dickens will talk about the excavations prior to the development of Northstowe – what was found during Phase 1 and the early stages of Phase 2 and looking forward to further work. Phase 1 was on the site of the old golf course near Longstanton and the archaeology there was completed in late 2015. Evidence was found for occupation in the Iron Age, Roman, Anglo-Saxon and Medieval periods. The Romano-British hamlet found in Phase 1 seems to have been a 'standard' Roman rural settlement, as actually a second Roman settlement has already been identified in Phase 2, just half a kilometre away to the south and potentially around the same size as Roman Cambridge. FEAG members spent two weeks digging on part of the Romano-British settlement in 2015. As part of the second phase of excavations, there will be community work, open days, and work with primary schools. Alison Dickens is a manager at the Cambridge Archaeological Unit and head of Access Cambridge Archaeology. For more information on the site, see: https://accesscambridgearchaeology.wordpress.com/2017/01/26/northstowe-phase-two/
Visit the Jigsaw calendar for details of upcoming community archaeology events in Cambridgeshire. Please contact us if you have any other events to add.
Details

Written by

Jigsaw
A warm welcome to the brand new Jigsaw Cambridgeshire website.
'Jigsaw - Piecing Together Cambridgeshire's Past' was a Heritage Lottery Funded project, designed to support and develop community archaeology in Cambridgeshire. The project ran from September 2011 until October 2016 and was a joint venture led by Oxford Archaeology East and Cambridgeshire County Council, with other partners including Huntingdonshire District Council and the Council for British Archaeology.
The key legacy of the Jigsaw project has been an active network of skilled volunteers and community groups across the county who are now able to engage and participate with their local heritage group. The Jigsaw community is continuing beyond the life of the HLF funded project, with OAE commited to supporting Jigsaw affiliated community groups into the future. With this in mind, we have re-developed our website and hope it will continue to prove useful and interesting to anyone wanting to learn more about their historic environment. OAE are also continuing to manage the community resource of equipment and guides and the Jigsaw social media accounts on Facebook and Twitter.
Jigsaw has been a ground breaking archaeology project, widely praised within the wider archaeological community and was shortlisted by the CBA in the 2014 British Arhcaological Awards for the Best Community Engagement Archaeology Project. We aim to continue helping more people to get actively involved in discovering, understanding and protecting their own local heritage. If you want to affiliate your community group with Jigsaw to make the most of our free resources, to create or join a new Archaeology Action Group, or to find out more about archaeological volunteering please contact us.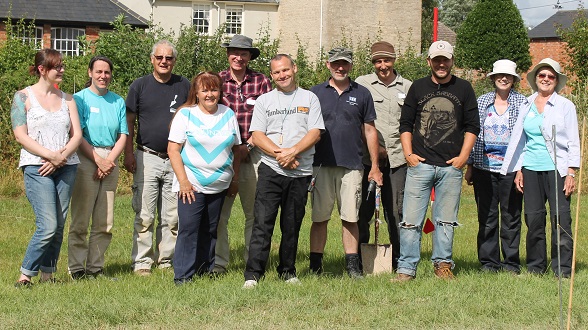 Details

Written by

Jigsaw
We have a new artefact identification guide to add to the thirty-two existing Best Practice Users' Guides produced by Jigsaw.
'An Introduction to Neolithic to Mid Bronze Age Prehistoric Pottery of Cambridgeshire' has been written by Oxford Archaeology East's prehistoric pottery specialist Sarah Percival and complements the 'Late Bronze Age and Iron Age Prehistoric Pottery ' guide written by OAE's Matt Brudenell. Both guides cover the most common pottery types from the prehistoric period in Cambridgeshire. They do not cover all pottery types found, or in any great detail, but we hope you find them useful to give a good general overview of the types you are most likely to find when excavating in Cambridgeshire.
More artefact identication guides can be downloaded for free from our online Guides pages.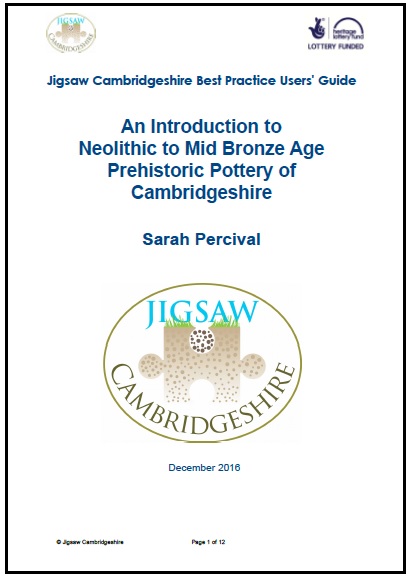 Details

Written by

Jemima Woolverton
The seventh Jigsaw Cambridgeshire newsletter is available to download.