News
Details

Written by

Jigsaw
Histon and Impington Archaeology Group - Monthly Talk
'People and Places from the Past of Histon and Impington' by David Oates
Monday 1st July 2019 at 7:30pm
Histon Baptist Church, 2 Poplar Rd, Histon, Cambridge CB24 9LN
Using pictures from his family's archive, David will introduce us to some more of the many individuals who have left their mark on the villages over the years, among them William Robinson, Ray Woodward, Douglas Bowles and Jordan Ison.
Going much further back he will examine whether archaeologists have unearthed enough evidence to see whether King Peada of Mercia lived in the village in 650 AD. We shall hear from the Histon poet William Youngman and we shall get a new angle on the Impington heroine Elizabeth Woodcock.
Open to all. Members free and visitors £3, accompanied children free. Refreshments available.
https://hiarchaeology.wordpress.com/whats-next/hiag-talks-programme-2018-2019/
CBA - Festival of Archaeology
Saturday 13th - Sunday 28th July 2019
The Festival of Archaeology is a showcase of archaeology in the UK and is coordinated by the Council for British Archaeology which celebrates its 75th anniversary this year. The theme of the festival is archaeology, science and technology.
For more information and to search events taking place nationwide, visit: https://festival.archaeologyuk.org/
Chatteris Museum - Talk
'Anglo-Saxon Chatteris - Have we found a king?' by Ian Mason
Thursday 18th July 2019 at 7pm
Chatteris Museum, 14 Church Ln, Chatteris PE16 6JA
In 1757 workmen repairing the London Road at Ferry Hill, Chatteris found an Anglo-Saxon tumulus grave, identified by the antiquarian William Stukeley. Chatteris Museum have an exhibition of 6th century objects from Cambridgeshire to replicate the the grave goods found at Ferry Hill. Besides the original claw beakers, they have artefacts on loan from the British Museum, Oxford Archaeology East, March and Wisbech Museums. Ian Mason will talk about what is known about the disocvery of the grave and what analysis of the claw beaker has revealed.
Free to attend. Booking is recommended (07979 334884). Free refreshments provided, donations at your discretion.
https://chatterismuseum.files.wordpress.com/2019/06/untitled.png
Oxford Archaeology East - Open Event
A Roman Settlement in Warboys
Saturday 20th July 2019 10am - 2pm
Warboys Methodist Church, 35 High St, Warboys, Huntingdon PE28 2TA
Last autumn and winter, OA East excavated a four-hectare site on the outskirts of Warboys which had evidence for near continuous settlement from the late Iron Age through to the early Anglo-Saxon period. This free drop-in event is open to all members of the public to see the finds and meet the archaeologists involved in the excavation. The event will include family-friendly hands-on actvities. Refreshments will be available courtesy of the Warboys Methodist Church.
https://oxfordarchaeology.com/community-training/events
CBA East - Tour
Caister Roman Town, Norfolk
Saturday 20th July 2019 at 12 noon
This event will be a gentle walking tour of the town walls (1.5kms) guided by local archaeologist and Roman specialist Alice Lyons. Meet at the main car park in Caistor St. Edmunds (if full can park in church car park). Details on how to get there: https://www.norfarchtrust.org.uk/caistor The tour will break at 1.30pm for lunch and optional Cream Tea in the parish church of Caistor St. Edmunds (within the Roman town). If there is sufficient interest following the cream tea/lunch Alice will continue the tour at 2.15pm which will include a view of the Tas Valley, the possible watersource for the town, the location of a Roman temple and newly discovered villa (2km). The tour will conclude at approximately 3pm.
Please bring packed lunch and drinks and ensure suitable footwear (boots or sturdy shoes advised). Please book for this tour before 1st July 2019 in order to reserve a cream tea. Send your booking to Aileen Connor aileenconnor705@btinternet.com please indicate number of people in your party, whether you would like to book for a cream tea (£4 per head payable on the day to the parish church) and whether you would be interested in staying for the second part of the tour.
This event is free for members of CBA East or £4 payable on the day.
Denny Abbey and Farmland Museum - Archaeology Activities Day
Thursday 25th July 2019 1 - 5pm
Denny Abbey and Farmland Museum, Ely Rd, Waterbeach, Cambridge CB25 9PQ
Be an archaeologist for the day with our family activities as part of the national Festival of Archaeology 2019. Activities run from 1:00pm until 5:00pm. The museum is open from 11:00am and our Docky Box tea room opens at 12:00pm for light lunches. Or bring a picnic to enjoy in the grounds of the Abbey.
Normal admission prices apply, but we ask for a small donation for craft activities to cover materials.
https://www.dennyfarmlandmuseum.org.uk/?event=festival-of-archaeology-childrens-event
Ramsey Abbey Community Project - Medieval Weekend
Saturday 10th and Sunday 11th August 2019 10am - 4pm each day
Abbey Road, Hollow Ln, Ramsey PE26 1DG
This open weekend takes place during the second of two seasons of excavation undertaken by Ramsey Abbey Community Project at Abbey College in Ramsey. Thanks to the generosity of National Lottery players, there will be free guided tours of the site by members of the Ramsey Abbey Community Project as well as hands-on activities and displays be re-enactors.
https://ramseyabbeyresearch.org.uk/
Heritage Open Days
Friday 13th - Sunday 22nd September 2019
Heritage Open Days is England's largest festival of history and culture, bringing together over 2,000 organisations, 5,000 events and 40,000 volunteers. Every year in September, places across the country throw open their doors to celebrate their heritage, community and history. It's your chance to see hidden places and try out new experiences – and it's all FREE.
https://www.heritageopendays.org.uk/
CBA East - Conference
Archaeology in the East: Celebrating the CBA's 75th Anniversary
Saturday 28th September 2019 10am - 5pm
Ipswich IP-City Centre, 1 Bath Street, Ipswich, IP2 8SD
Join CBA East to hear about some of the most significant Archaeological Discoveries and Research from across the Eastern Region. Programme and booking details in this PDF. For further information please contact cbaeast@archaeologyuk.org
Advance booking required. Lunch included in ticket price (£20 for CBA East members/£25 for non-members).
Details

Written by

Clemency Cooper
CBA East have organised a conference to celebrate the Council for British Archaeology's 75th anniversary, taking place in Ipswich on Saturday 28th September 2019. This conference will showcase a selection of significant archaeological sites and research projects in the region from recent years. Several of the speakers are based in Cambridgeshire and will be talking about sites in the county. This includes presentations by Mark Knight and Craig Cessford of Cambridge Archaeological Unit talking about the Must Farm Bronze Age settlement and the Medieval hospital cemetery found at St John's College in Cambridge, respectively. Liz Popescu of Oxford Archaeology East will present the discoveries of Stoke Quay in Ipswich and Sarah Inskip of the University of Cambridge will talk about her research into leprosy in squirrels.
The full programme and details of how to book can be found in this PDF. For further information please contact cbaeast@archaeologyuk.org
Details

Written by

Jigsaw
Come and see the archaeological excavation taking place as part of Highways England's A14 Cambridge to Huntingdon improvement scheme. An open day is taking place on Saturday 18th May from 10am to 3pm at Mill Common, Huntingdon where archaeologists are excavating along the route of the Pathfinder Link Road into Huntingdon. Please note there is no parking available on site.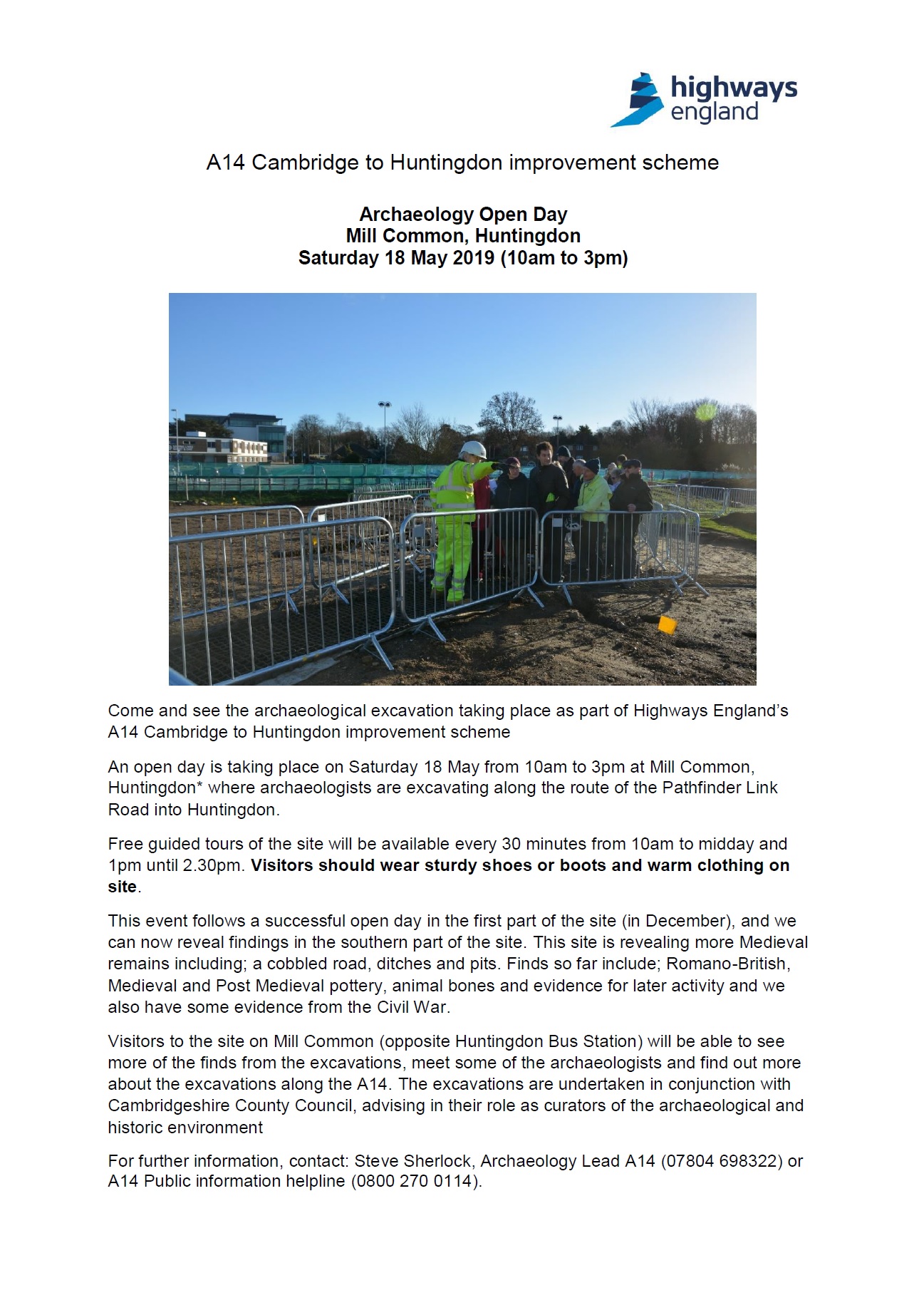 Details

Written by

Jigsaw
Fane Road Archaeology Group - Monthly Talk
'Paradis Found? Archaeology of Bahrain' by Michael Olney
Monday
3rd
June 2019
at 7pm
The Parkway Sports & Social Club, Maskew Avenue, Peterborough, PE1 2AS
All welcome (Members: Free; Non-members: £5).
https://peterborougharchaeology.org/event/paradise-found-archaeology-of-bahrain/
Huntingdonshire Archives - Book Launch
'The Singing Milkmaid - Life in Post-Restoration Huntingdonshire'
Tuesday
4th
June 2019
at 2pm
Huntingdon Library and Archives, Princes St, Huntingdon PE29 3PA
To celebrate the reopening of Huntingdonshire Archives in
June 2019
, the authors of a new book 'The Singing Milkmaids' will be giving a free illustrated talk. An exhibition of archives used in researching this new history of the county will be on display in the newly opened archives. Signed copies of the new book will be available for purchase.
All welcome. Refreshments will be provided.
Cambridge Archaeology Field Group - Monthly Talk
'Snailwell: A Late Iron Age Elite Burial from Southern England' by Jody Joy (Museum of Archaeology and Anthropology)
Wednesday
5th
June 2019
at 7:30pm
McDonald Institute for Archaeological Research, Downing site, Cambridge - Parking is available on site from Tennis Court Road.
In 1952 a well-furnished cremation burial was discovered by accident during the construction of a new housing estate at Snailwell, Cambridgeshire. Some objects from the grave are well known, such as the beautiful spiral bracelet with its fearsome animal-headed terminals. But others which tell us a lot about the grave occupant, like the belt buckle thought from a Roman military belt, are not. In this presentation, Jody Joy will discuss his recent work re-examining these artefacts, telling the story of this fascinating burial.
All welcome (CAFG invite contributions of £1 from non-members)
http://www.cafg.net/item.aspx?id=440
St Neots Local History Society - Monthly Talk
'The Great Northern Railway through St Neots' by George Howe
Friday
7th
June 2019
at 7:30pm
Eynesbury Junior School, Montagu St, Eynesbury, Saint Neots PE19 2TD
In this talk George will reveal the origins and fascinating history of the Great Northern Railway, its route, and how it evolved into the southern part of the East Coast Main Line.
But how did all this affect St Neots Station and goods yard? And how did the town cope with the consequent growth in traffic over the years? Come along to find out.
All welcome (Members: Free; Non-members: £3.00)
http://stneotslhs.org.uk/#/2019-programme/4594476047
Fen Edge Archaeology Group - Monthly Talk
'Sites in a landscape: ongoing investigations at Northstowe' by Alison Dickens
Friday
14th
June 2019
at 7:30pm
Rampton Village Hall
The Cambridge Archaeological Unit excavations are continuing at the New Town of Northstowe. Project leader Alison Dickens will update about the latest findings on the large Iron Age and Roman settlement site (almost 1km long) on the airfield, and give a brief preview of the newest areas of investigation. The site, which is larger than Roman Cambridge, has produced thousands of artefacts providing evidence of the settlement, its industry, trade, religion and domestic life. Alison is a senior manager at the Cambridge Archaeological Unit and has been investigating the archaeology of Cambridgeshire for over 25 years. She lives in Rampton.
All welcome. Admission: Members £2; Non-members pay £3.
https://feagblog.wordpress.com/events-for-2019/
St Neots Local History Society - Additional Talk
'Love's Farm Excavation Update' by Mark Hinman (Pre-Construct Archaeology)
Friday
14th
June 2019
at 7:30pm
Loves Farm House, Kester Way, St Neots, PE19 6SL (NOTE: Parking is limited at Loves Farm House. If possible, please use public transport (it is next to the railway station) or car share)
Mark has updated the Society on progress with the excavations and post-excavation work on a number of occasions but now the final report on this nationally important project has recently been published. Hear the latest about the largest archaeological operation ever to be undertaken in St Neots.
All welcome. Tickets £5 from St Neots Museum (01480 214163) or on the door (subject to availability).
http://stneotslhs.org.uk/#/2019-programme/4594476047
Cathedral Square, Peterborough, PE1 1XH
The UK's largest multi-period city centre living history festival. This year it returns to Cathedral Square in Peterborough city centre for another year of traditional family fun.
Wimpole History Festival 2019
20th - 23rd
June 2019
Wimpole Estate, Arrington, SG8 0BW
Booking has opened for events taking place during the third annual Wimpole History Festival at the National Trust's Wimpole Estate. Advance booking is required for many of the talks and activities. One of the talks will be on 'Investigations of the Roman Landscape at Wimpole' by the National Trust's archaeologist, Shannon Hogan, reviewing the finds of OA East's excavations at Lamp Hill last year.
http://www.wimpolehistoryfestival.com/
Norfolk Archaeological and Historical Research Group - Seminar
'A Norfolk Miscellany: A Day of Norfolk Local History Talks'
Saturday
22nd
June 2019
10am - 5pm
Thomas Paine Lecture Theatre, University of East Anglia, Norwich Research Park, Norwich, NR4 7TJ
This will be a day of talks on various aspects of Norfolk's local history, aimed not only at our members but also at interested members of the public. Talk topics include Seahenge, Medieval graffiti, monastic archaeology, Broadland heritage and the impact of USAAF airfields on the landscape. The late local historian Chris Barringer's long-awaited book 'A Norfolk History' is about to be launched and will be on sale.
Members: £20 and Non-Members: £24 (including lectures, refreshments and buffet lunch). To book email
enquiries@nahrg.org.uk
or ring 01953 453915.
Friends of St Mary's Church, Godmanchester - Book Launch
'The Parish Church of St Mary the Virgin, Godmanchester - A History' by Ken Sneath
Saturday
22nd
June 2019
at 7pm
The launch of a new book, which has been written for all with an interest in the history of the Parish Church, not just for the church or its members! An illustrated talk by the author and historian, Ken Sneath and another on 'The Roman Secrets of Godmanchester' by Kate Hadley. There will be lots of delicious food, wine and raffle.
Tickets £10 from: Kate Hadley 01480 454154; Ken Sneath 01480 450686; Sue Worthington 01480 411242;
adrian@sington.co.uk
(All profits to the Transformation Project).
Festival of Archaeology 2019
13th - 28th
July 2019
A national festival of events to showcase the work of archaeologists and archaeological discoveries. It is being coordinated by the Council for British Archaeology as part of their 75th anniversary celebrations in 2019. For more information and to discover events taking place,
http://www.archaeologyfestival.org.uk/
Details

Written by

Jigsaw
Cambridge Archaeology Field Group - Monthly Talk
'Roman Graffiti' by Paddy Lambert (OA East)
Wednesday 1st May 2019 at 7:30pm
McDonald Institute for Archaeological Research, Downing site, Cambridge - Parking is available on site from Tennis Court Road.
All welcome (CAFG invite contributions of £1 from non-members)
http://www.cafg.net/item.aspx?id=440
St Neots Local History Society - Monthly Talk
'Flag Fen to Must Farm' by Stuart Orme (Cromwell Museum)
Friday 3rd May 2019 at 7:30pm
Eynesbury Junior School, Montagu St, Eynesbury, Saint Neots PE19 2TD
Peterborough has some of the most remarkable Bronze Age archaeology in the world, from the amazingly preserved prehistoric causeway at Flag Fen, comprising more than 60,000 upright timbers and 250,000 horizontal planks, to the incredible find of a burnt village dating back some 3,000 years at Must Farm. Excavation at these sites has revealed not only incredibly well-preserved artefacts but a real glimpse into Bronze Age life.
All welcome (Members: Free; Non-members: £3.00)
http://stneotslhs.org.uk/#/2019-programme/4594476047
Cambridgeshire Bird Club - Monthly Talk
'Wild birds in human history: the archaeological approach' by Umberto Albarella (University of Sheffield)
Friday 10 May, 2019 at 8pm
Tony Cooper Suite, Cottenham Village College, CB24 8UA.
Many people love birds because of their beauty, songs and overall contribution to our countryside. We love birds but we also need birds and in that respect they are worthy or our care and protection. It is less often considered, however, that birds have also had a fundamental role in shaping our past and that, as such, they are part of our historical as well as natural heritage. In this talk Umberto Albarella will provide some examples of how archaeologists have studied birds in order to understand past human societies and the way the relationship between humans and birds has operated. Umberto Albarella has a first degree in Natural Sciences from the University of Naples (Italy), but he has been interested in anthropology and then archaeology since his undergraduate days. He has worked in the UK since 1993 and is now Professor of Zooarchaeology at the University of Sheffield.
All welcome. Non-members pay £2
https://www.cambridgebirdclub.org.uk/

Cambridge Antiquarian Society - Monthly Talk
'A Place of Arrivals: Archaeologial investigations on the Cape Verde Islands' by Marie Louise Sørensen (University of Cambridge) and Chris Evans (CAU)
Monday 13th May 2019 at 6pm
Faculty of Law, West Road, Sidgwick Site, University of Cambridge, CB3 9DZ
There is no charge for visitors or guests at lectures. New members are warmly welcomed.
https://www.camantsoc.org/meetings-and-events/
Fane Road Archaeology Group - Monthly Talk
'Lost and Found: Grave Goods of the Abbots of Peterborough' by Hannah Saunders
Monday 13th May 2019 at 7pm
The Parkway Sports & Social Club, Maskew Avenue, Peterborough, PE1 2AS
This talk draws on recent research by the speaker on the thirteenth-century Benedictine Abbots of Peterborough, and the funerary culture associated with the monastery. Hannah is an Artist and Medieval Art Historian currently based in Cambridgeshire. In 2015 she completed her BA HONS in Documentary Photography at The University of Wales, Newport, and in 2018 she graduated from The Courtauld Institute of Art with an MA specialising in The Supernatural Middle Ages.
All welcome (Members: Free; Non-members: £5).
https://peterborougharchaeology.org/event/advancing-the-happy-dead/
Fen Edge Archaeology Group - Monthly Talk
'Archaeology along the East Anglia ONE cable route: changing the landscape of the River Deben Valley in east Suffolk' by Andy Peachey (Archaeological Solutions)
Wednesday 15th May 2019 at 7:30pm
Tony Cooper Suite, Cottenham Village College, High St, Cottenham, Cambridge CB24 8UA
The excavation of a cable route to serve the East Anglia ONE off shore wind farm has allowed an unprecedented opportunity for archaeologists to investigate the landscape of the Deben Valley and its tributaries to the east and north of Ipswich. Archaeologists have recorded remains of every period, including new evidence for late Bronze age settlement and enclosures, with field systems similar to those still present today; as well as Roman farmsteads that relate closely to a Saxon hall and village. But most notable is a monumental prehistoric enclosure situated on a hill slope that contains a wooden trackway. The preservation of this trackway is exceptional due to the presence of springs that kept the vast ditch system waterlogged. The trackway may have acted as a platform within a monument that was designed to be viewed at the head of the river valley, with initial radiocarbon dates indicating it was established close to the beginning of the early Neolithic period, and re-laid subsequently in that period, coinciding with the establishment of agrarian communities in Britain. Prehistoric pottery is rare on the site, but other artefacts have suggested a hugely symbolic purpose.
All welcome. Admission: Members £2; Non-members pay £3.
https://feagblog.wordpress.com/events-for-2019/
Wimpole History Festival 2019
20th - 23rd June 2019
Wimpole Estate, Arrington, SG8 0BW
Booking has opened for events taking place during the third annual Wimpole History Festival at the National Trust's Wimpole Estate. Advance booking is required for many of the talks and activities. One of the talks will be on 'Investigations of the Roman Landscape at Wimpole' by the National Trust's archaeologist, Shannon Hogan, reviewing the finds of OA East's excavations at Lamp Hill last year.
http://www.wimpolehistoryfestival.com/
Festival of Archaeology 2019
13th - 28th July 2019
A national festival of events to showcase the work of archaeologists and archaeological discoveries. It is being coordinated by the Council for British Archaeology as part of their 75th anniversary celebrations in 2019. For more information and to discover events taking place,
http://www.archaeologyfestival.org.uk/