13 July
Today we're still finishing off digging and recording Areas 1 and 2, and the old Area 3 trenches. In Area 1, Chris is still chasing down her ditch with its lovely black fill, and still getting out some lovely finds. Nearby, Kev and Heather have been sorting out the ditches, pits and postholes all close together and overlapping. We think we've also found a big post hole...for a modern telegraph pole! It's in a line with all the others, anyway...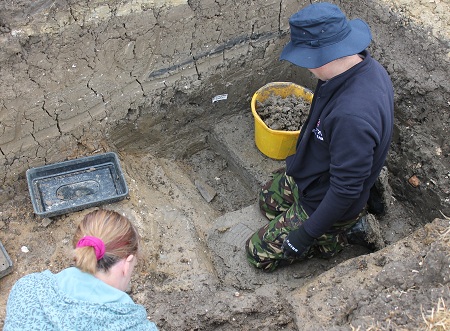 We've just about found the bottom of the ditch in Area 2, but paused this morning to photograph two pieces of Medieval ?cooking pot broken in situ - here's Dave shamelessly posing with the pot uncovered by someone else yesterday! Alex and John have excavated another ditch in this trench and pulled out the most enormous animal jaw. We are so close to finishing here!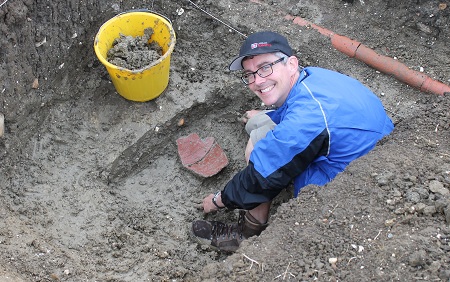 We've also moved into our new trenches: confusingly named Area 3 (new bit) and Area 2 (new bit)! Area 2 new bit may have a furrow, and possibly a big ditch. Phil and co are beasting through it. At the top of the field, Mick has been very excited to start cleaning back the ditches in the new Area 3, and may have found a pit cutting a ditch, or vice versa. Either way, there's lots still left to do, and James is itching to get everyone in there!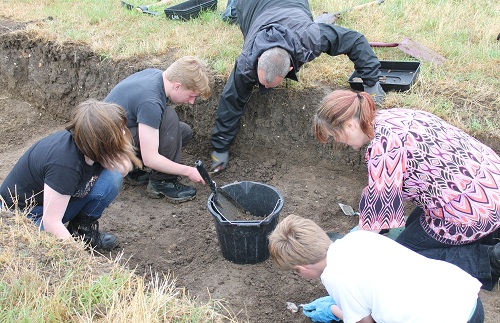 There definitely won't be a blog Tuesday and Wednesday - so check back on Thursday!