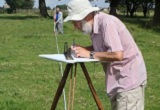 The 2013 Jigsaw training programme is now well under way! We have finished our finds identification courses for the year, but before we move to our practical outdoor courses we have two courses dealing wtih the theoretical bases of practical techniques which you may be interested in:
C6 Theory and Methods of Landscape Survey - Mon 13th May 7-9pm at the University Centre 'Grad Pad', Cambridge
C7 Theory of Geophysical Survey - Mon 20th May 7-9pm at Hinchingbrooke Country Park, Huntingdon
We still have a few spaces on both these courses, so please book now if you'd like to come. We recommend all people learning how to do geophysical survey and plane table and/or dumpy-level landscape survey this year attend these courses to gain an understanding of the theoretical background behind the techniques.
More information and a booking form can be found here.